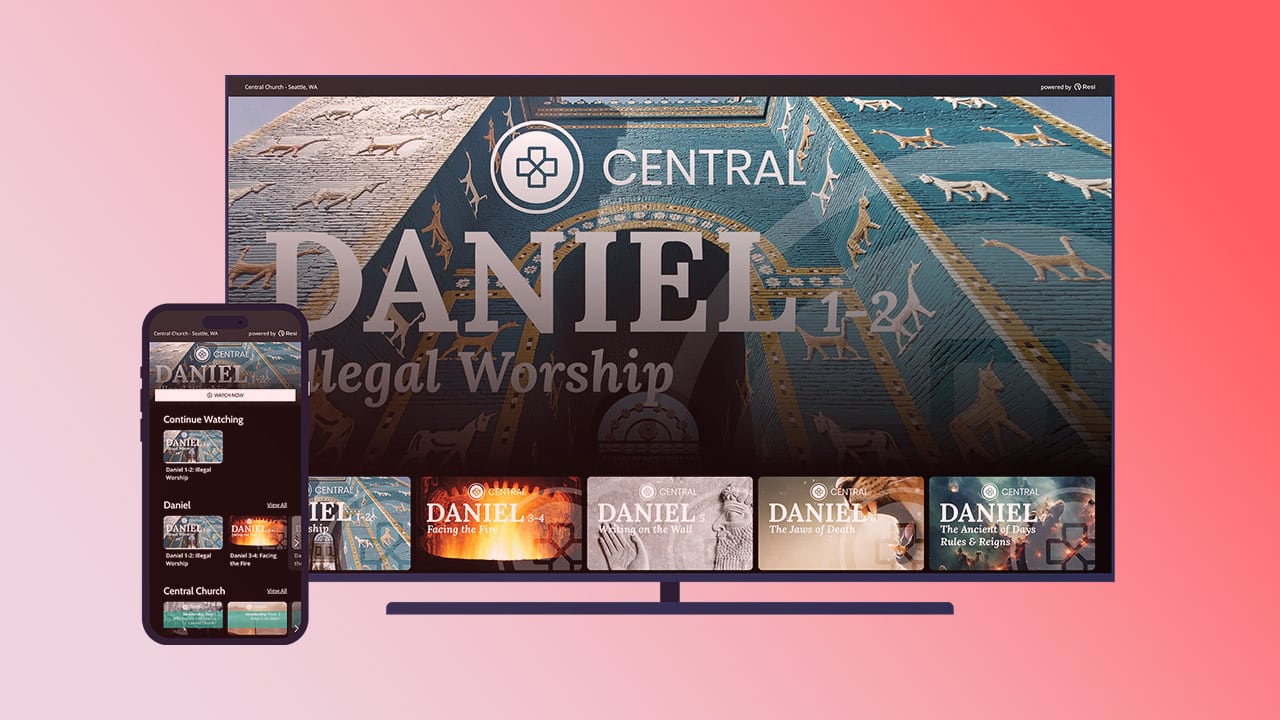 New product enhancements deliver a dynamic and customized experience for media management, storage and video delivery
ALLEN, TX., Oct. 18, 2023 –Resi, an end-to-end solution for online and multisite video streaming, announces Media Sites, a new feature that delivers a customizable way for organizations to host and share media. Advanced functionality expands on the capabilities of its new Resi On Demand platform, which delivers a centralized experience for audiences to consume and engage with content.
Media Sites provide an easy-to-create experience that increases discovery, stickiness, and sharing of content—ultimately helping organizations grow, learn, and strengthen community. Resi announced the new product features while onsite at Churchfront Live, a two-day conference for tech-savvy worship and production leaders.
"Prior to Resi On Demand, and the new Media Sites experience, we didn't have a dedicated place where our congregation could easily access our video and audio content without distraction," said Brandon Rees, the Broadcast Video Director at Connection Pointe Christian Church in Brownsburg, IN. "Not only is all of our content through Resi now available to our community 24/7, but as an administrator we have a lot more flexibility to curate a rich experience to encourage more engagement with our ministry content."
Resi's Media Sites enable organizations to create an on demand experience and distribute content in a way that looks and feels authentic to their brand—all while reaping the benefits of RSP technology, which ensures saved videos maintain the same high-quality viewing experience as the original livestream. New Resi Media Sites features include:
Customized Site: Building a custom media site is simple via an organization's Resi Studio login. After claiming a unique URL, production teams can then add playlists to their new site, and content is viewable immediately, allowing community members to watch videos and playlists like they do on other third-party streaming platforms. Organizations can create an unlimited number of playlists and designate which ones are viewable to their audience.
Embedded Website Experience: Organizations also have an option to embed their Resi media directly into their current website. The dynamic web experience delivers content in a centralized and familiar place for viewers, which helps improve engagement and time on site.
Dynamic Content: Either via a stand alone web page or directly into an organization's current website, the content is dynamically populated based on the playlists selected to display, and will automatically appear and be viewable by others. Any videos added to linked playlists will auto populate onto the organization's media site. Organizations can also go from livestream to on-demand instantly with Resi's autosave to library feature, which saves production teams countless hours per week.
Ad-Free Viewing: Sharing content via Resi's On Demand Media Site means viewers will have an ad-free experience, reducing distractions while watching video content. According to a recent Pushpay study, 89 percent of churches were livestreaming to social media in 2022, and only 47 percent indicated they intend to do so long term. Ads can be distracting, reduce attention span and draw away from the intended video content message.
Performance Analytics: Delivers a holistic view of metrics for uploaded content— including a performance summary of all videos or insights about individual content, which enables organizations to track viewership, measure reach, and better understand community preferences.
"In a digital-first culture, organizations not only expect supreme quality and livestream reliability, but are looking for tools and functionality to take their content management strategy to the next level," said Aaron Senneff, Chief Technology Officer for Resi and Pushpay. "Our On Demand platform delivers that flexibility and control, while also offering an authentic and uninterrupted experience for viewers which is critical as organizations vie for time in an attention economy."
Today's announcement also sets the foundation for deeper integration with Pushpay solutions, including a dynamic mobile app experience, which will be announced later this year. Resi is hosting a customer webinar to unveil its new product innovations on Thursday, October 19, at 12pm CST. For more information about the Company, or to register for the webinar, click here.