Best Livestream Encoder Software
Get Streaming Today With ProPresenter
Resi's ProPresenter Stream plugin pairs the power of Resi with the flexibility of Renewed Vision's ProPresenter. Stream high-quality, ultra-resilient content with Resi even through internet disruptions—on your own hardware.
Resi is trusted by thousands, including:
Like Resi's hardware encoders, ProPresenter Stream takes advantage of Resi's Resilient Streaming Protocol (RSP) to ensure 100% perfect streaming without "special effects" like buffering wheels, glitches, and dropped frames.
Check out the video below to see how easy it is to livestream with Resi and ProPresenter.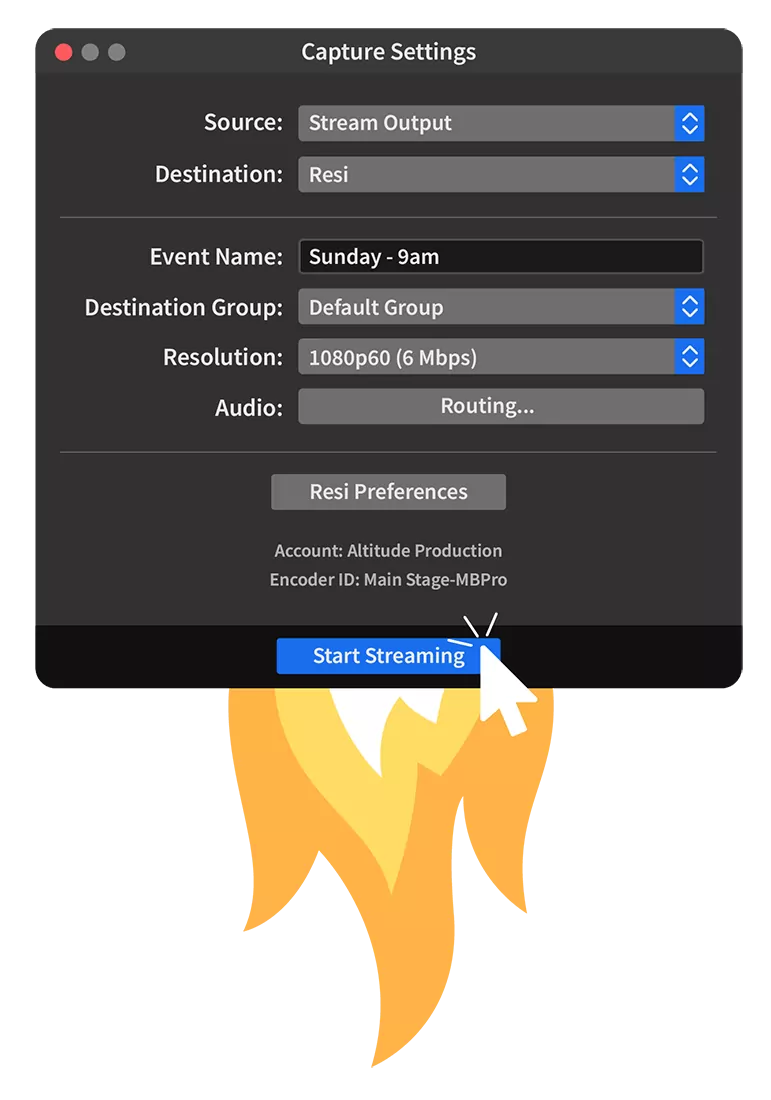 Click & Stream
Livestreaming with Resi and ProPresenter is simple. Just select your video source screen, preset destinations, and resolution—that's it. Click Start Streaming and the Resi Cloud takes over, delivering your livestream in up to 1080p60.
Resi enables easy, automated scheduled streams from ProPresenter. Set up your one-time or recurring events ahead of time and have one less thing to worry about.
Scheduled Simulated Live Replays
After streaming an event, schedule it to re-stream to your online audience using Simulated Live. The event will stream from the cloud to all of your destinations, with no need for your ProPresenter computer to be turned on or online.
Your Audience Just Got Bigger
Grow your online presence by streaming to your website, Facebook, YouTube, apps, and more—all at the same time from a single stream. Easily embed your video on platforms like Church Online Platform and Brushfire. Set up once and you're done—your embed code never needs to be updated.
Quality That Adapts
Resi's cloud automatically converts your video stream into multiple bitrates, giving viewers multiple quality levels depending on their Internet speed and processing power.
Proactive Monitoring and Support
We think it's better to catch issues before they happen. All of Resi's platforms provide proactive monitoring and reports, including full email and phone support—even on weekends.
RSP Makes Resi Different
Resi's patented technology, the Resilient Streaming Protocol (RSP), is the first livestreaming technology that guarantees complete and error-free audio and video delivery.
3 Easy Ways to Stream
Entry & Server-Grade
Hardware Encoders
Incredible device reliability; Resi's hardware encoders are best for mission-critical applications.
ProPresenter Stream
Software Encoder
Bring your own computer and a copy of ProPresenter 7 to livestream with the resiliency of Resi's platform.
Web-Based
Upload and Automate
Upload a pre-produced video and schedule it to stream to multiple destinations from Resi's cloud.
We really,
really

care.

Resi is built by broadcast professionals who demand the best. Because of the confidence in streaming integrity provided by Resi's patented technology, content can be streamed in bitrates much higher than otherwise reliably possible on standard Internet connections.
Let's Get Streaming!
It's easy to get started with ProPresenter Stream. Just hit the button below to create your Resi account and get streaming quickly and reliably in minutes.