Media Sites
Media Sites is a brand-new Resi On Demand feature that gives your church a personalized site from which to host and share your streamed sermons and other video content. From custom playlists, thumbnails, and branding, your site can look, feel, and sound like your church.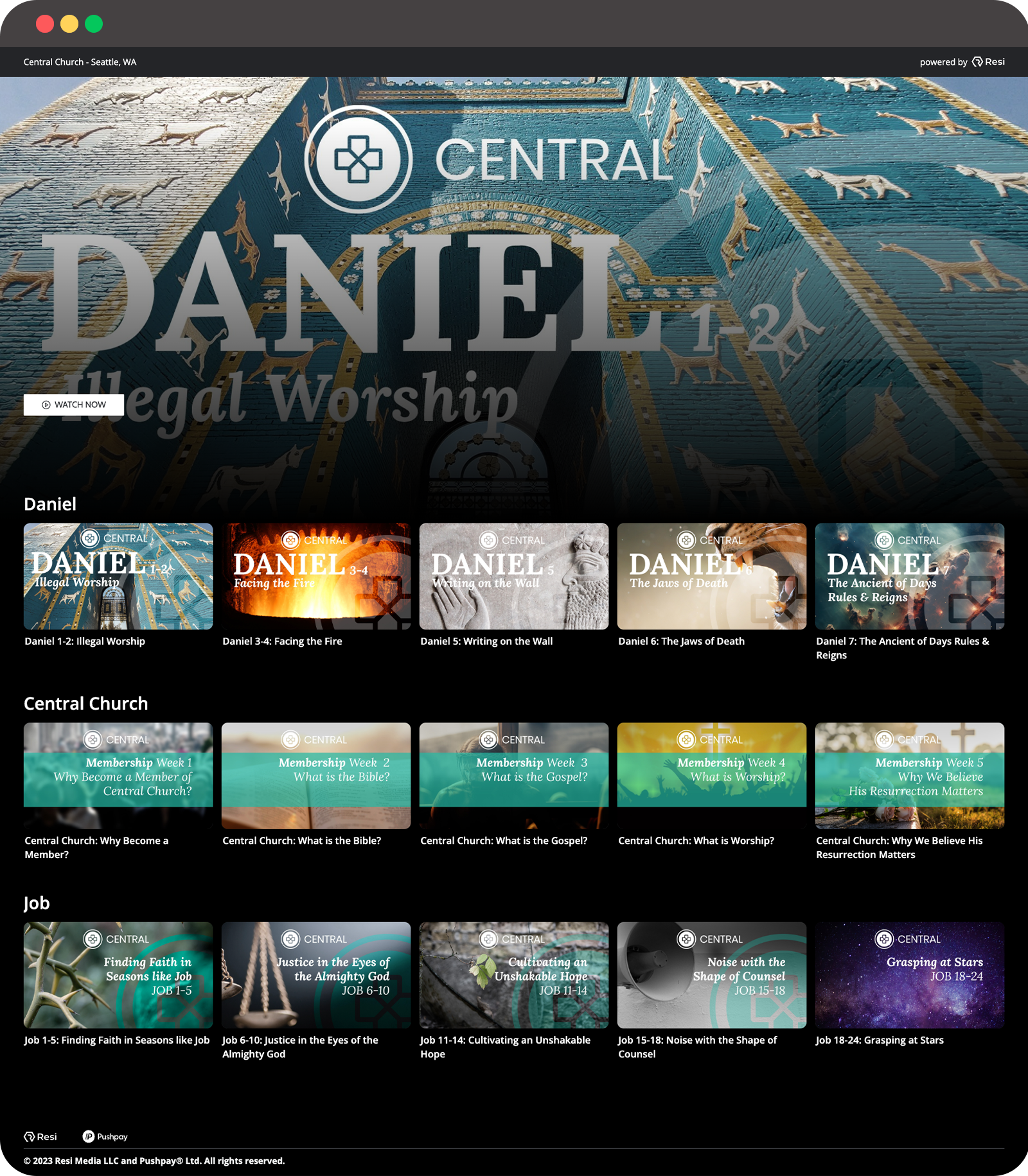 Dynamic On-Demand Experience
Media Sites allows for the creation and integration of your church's content into a stand-alone personalized website or directly into your church's current website. Your streamed and uploaded videos are automatically uploaded into pre-selected playlists that are displayed in a familiar and easy-to-use interface. Think of it like your church's own digital TV channel available 24/7.
Hours Saved Through "Automagic"
No more waiting until Tuesday for your congregation to watch or share Sunday's streamed message. With our "automagic" features available via Resi On Demand, you can go from livestream to on demand instantly. Autosave to Library and Playlist means that when your livestreams finishes, it can be made available immediately on your Media Site without lifting a finger. Talk about some serious time savings.
Your Content. Your Way.
Building your Media Site is a breeze. It starts by claiming your unique URL for your church. After that, you give your site a name and description, and then you can begin adding playlists — like specific sermon series or orientation videos for new church members. When you're done populating your site with playlists, you're ready to go. It's that simple.
The other available option is to embed your Media Site's feed into your current church's website. This option is just as easy and offers a more integrated online experience for your church's website.
You're In Control
No more worrying about disruptive ads, angry trolls, time-consuming copyright flags, inappropriate "suggested videos," or Big Tech censorship. Your Media Site will only show you what you put on it! In other words, you have complete control over what your audience is exposed to.
Works On
Resi Plans
Basic Embed
Social Only
Starter Lite
Pro
Enterprise
Media Sites (Add-On)
Pricing
Pro:  $99/mo billed annually
Enterprise:  Contact for pricing
Works on Resi On Demand Plans
Free Trial
Already a customer?
Try Media Sites for FREE!
Try Media Sites free for 30 days. Head over to studio.resi.io/media/sites/ to start your trial.
Not a Resi customer?
It's easy to get started.
A Resi demo is the best way to get a full walkthrough of all of Resi's streaming and Media Site features.