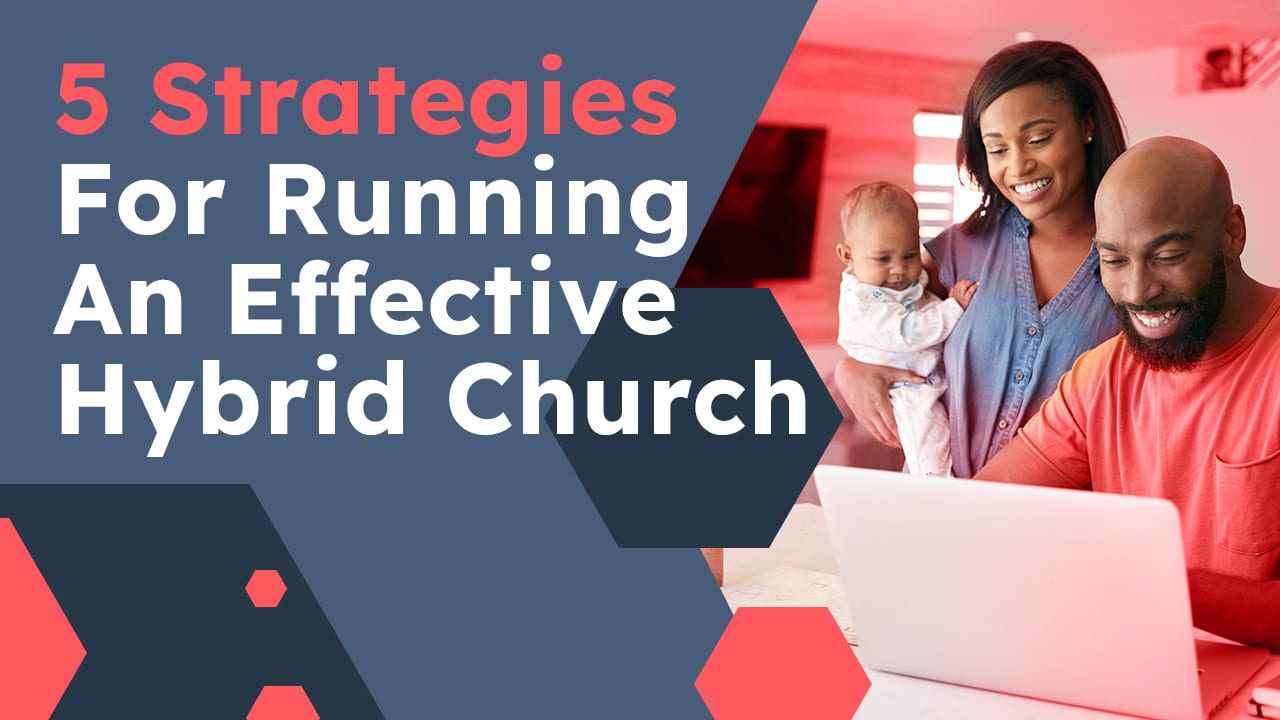 We all know how integral a physical church building is for growing a strong and robust culture within your ministry. Between your staff, music, events, and communal bonding, visitors arrive excited and ready to worship. But once the Sunday services are over, many people will leave, and some may even never return.
So how can churches work toward engaging people enough to bring them back?
The answer is hybrid church.
With a hybrid church, your ministry can reach people, no matter the time or location. By consistently engaging with visitors in the places they feel most comfortable and at the times they need ministry the most, your church has the opportunity to have a much larger impact on the lives of their community. And data actually shows that this is true!
While many churches were ready to fully return to in-person services after the pandemic ended, church attendees had different plans in mind. In fact, statistics reveal:
46% of churchgoers are either primarily attending online, or attending both online and in-person (Pew Research)
67% of respondents say they learn just as much from a streamed message as from an in-person sermon (Lifeway Research)
8 in 10 U.S. churches now provide hybrid services, offering options for congregants to worship in-person or online (Hartford Institute for Religion Research)
The point is, the hybrid model is here to stay. Let's dive deeper into what a hybrid church looks like and cover some strategies to help you run an effective hybrid church in 2023.
What is the Hybrid Church Model?
The hybrid church goes by many names: digital church, metachurch, omnichannel church, or even "phygital" church. All these terms are used to describe a church experience that blends the physical and digital worlds together for a seamless worship experience.
It's an approach that fully engages people in your community without necessarily requiring them to step inside a physical building every week. With a hybrid church, you can include people who are housebound, sick, on vacation, far from your physical campus, and so much more.
Whether you're just getting started with online campuses or you're ready to jump into the metaverse, we've got some strategies to help make a hybrid model even more effective for your church.
5 ways to effectively run a hybrid church
There was a time when churches focused solely on physical ministry. However, over the last few years, many organizations have realized how effective digital alternatives are and have dived into learning online ministry. But as we all know, in-person church is still vital for many congregations, so how can these two methods work together?
Here are 5 ways to connect in-person and online ministry for an effective hybrid church:
Put your mission first
Set out your digital welcome mat
Stop separating physical from digital
Focus on connection
Be willing to experiment
1. Put your mission first
Your church's mission always comes first. It drives everything your organization does, from which events you host, to how you spend your annual budget—so why shouldn't it drive your hybrid model too? Pick what digital tools and components help best serve your community and the values your church is built off of. This will ensure that while your church adapts with technology, your mission will still hold true.
2. Set out your digital welcome mat
Mark Matlock, Insights Lead at Barna, said, "We know the Church is more than a building. The question is: Is virtual church more than a sermon?"
The answer should be yes!
Hybrid churches offer much more than digital services—they offer entire online campuses for people to gather together! By combining assets like livestreams, apps, social media platforms, websites, and more, your online campus holds endless ways to connect with your digital congregation. That being said, in order to make the most out of what is digitally possible, your church must invest in and upkeep these assets the same way you would a physical campus.
Be sure to regularly refresh your digital presence by making sure each asset listed above (plus anything else you utilize) is up-to-date and made to feel as welcoming as your physical building. Your app and website should reflect who you are as an organization by showcasing your mission and values, how you serve your community, how you build discipleship, events you have planned, and some video content of your latest sermons and gatherings. Your social media and emails should reinforce your messaging and keep your congregants informed on what's currently going on.
3. Stop separating physical from digital
The beauty of a hybrid model is that it allows people to experience their ministry in a digital or physical environment whenever they need to. By having the ability to engage with their church online throughout the week, congregants feel a stronger sense of community and connection when they are able to attend in-person—showing the importance of having a combination of digital and physical campuses.
Connecting physical and digital campuses could include:
Live streaming services and sermons
Coordinating bible studies that meet in-person and over Zoom
Using digital connection cards for attendees
Making Facebook groups where congregants can interact
Releasing a weekly scripture study over email
Plus so much more!
4. Focus on connection
Ultimately, whether you're in person or online, your church's main goal is to create connection and community. It's time to shift the focus from physcially gathering, to spiritually connecting.
In order to build strong relationships with people, you need to meet them where they are. That means you need to offer them the right resources, next steps, and ongoing support as easily and manageably as possible. For example, digital forms are a great way to capture contact information for in-person and online attendees. In-person visitors could be given a QR code that takes them to the form and digital visitors could be sent a link. These forms could be used to guide congregants to the next step, such as signing up for a newsletter, joining a small group, or possibly getting involved in volunteer opportunities.
The point is, by focusing on building strong relationships rather than building an in-person audience, your church has the opportunity to develop deeper connections than they've ever seen before.
5. Be willing to experiment
Craig Groeschel, Lead Pastor at Life.Church, said, "I'd rather be wrong trying something than being a critic of something." While not every church may be ready to dive into the Metaverse like Life.Church has, experimenting with a hybrid model can open a ton of new doors to help your church succeed.
Some smaller ways to experiment with hybrid church are:
Testing different formats for your Sunday sermon livestream—ex: mixing live and pre-recorded clips
Creating a podcast for an extra weekly message
Automating administrative tasks like sending digital giving statements
Creating a virtual prayer wall or group for prayer requests
Sharing discussion guides to keep the conversation going after Sunday's sermon ends
Bonus: Get started with live streaming
A great way to get started with a hybrid model is to begin livestreaming your church events, services, and sermons. By setting up a regular streaming schedule, you can begin building out an online audience who can regularly keep up with your church's messaging and mission.
Visitors and congregation members alike can tune in to your live streams each Sunday, or enjoy some of your video content throughout the week when they need it, instilling consistent engagement with your organization and what it has to offer. Plus, by posting regular streams of your services, people in search of a new church are able to watch and see if your organization is right for them.
Resi offers a comprehensive streaming system that is perfect for hybrid-churches of any size and experience. With our Live Streaming solution, Multisite Streaming solution, Video On Demand service, and so much more, Resi can help you develop a robust online presence that engages users and unites your community. If you're interested in learning more about how Resi can help you begin your hybrid journey, contact our Sales Team who can get you the answers you need.
There are endless possibilities with hybrid church
Whether online, in-person, or somewhere in between, your church's opportunities for growth and impact are endless! Engaging with people online helps your organization reach them in places they are most comfortable, allowing you to build strong connections from within.
Here at Resi, we help churches find opportunities for growth by equipping them to expand their reach and strengthen their ministry through livestreaming. In fact, we'd love to connect with you and share how we can serve your church and set you up with a streaming solution perfectly designed for your community.
Contact our Sales Team to get started.