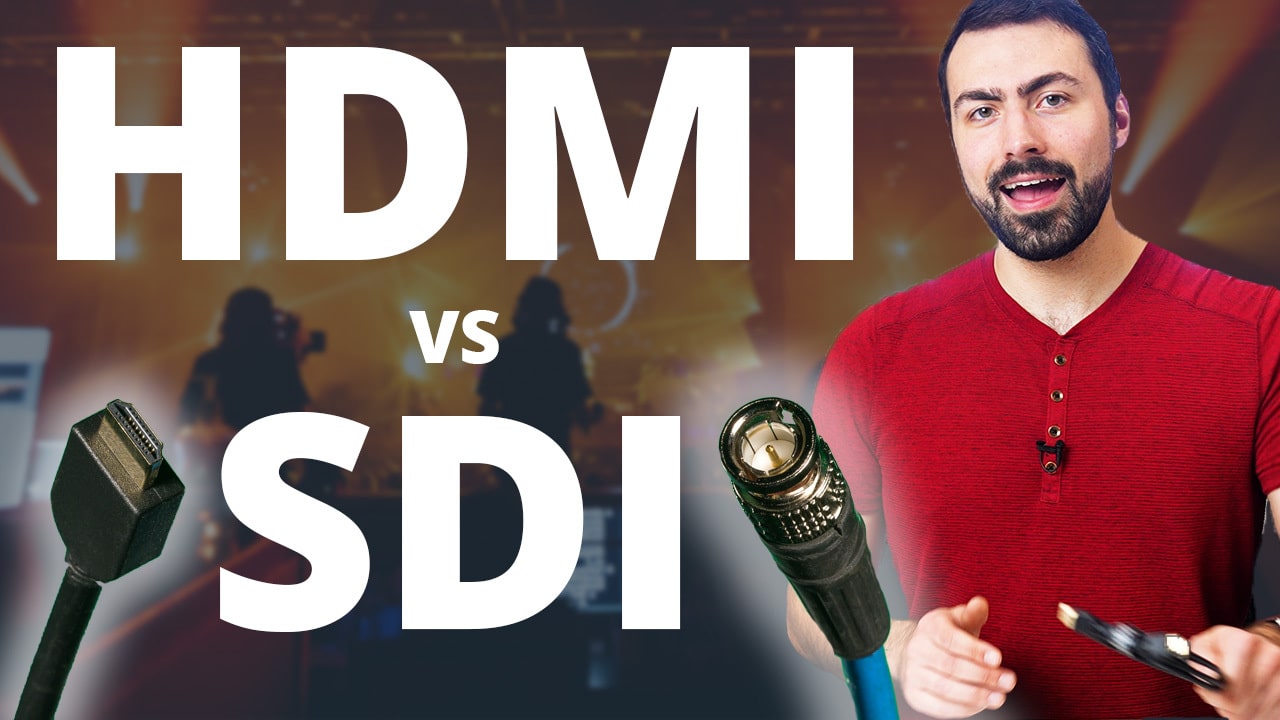 Anyone who has ever been part of a livestream production knows how vital having a strong video signal is. Whether you're dealing with confusing adapters, unstable signal transmissions, unexpected signal glitches, or more, situations like these can be the first sign your stream isn't going successfully. Luckily, one way you can help ensure a stronger signal is by investing in the proper video transmission cable. By watching our video below, you can learn everything you need to know about buying the perfect cable for your production team, including the different types of transmission standards, the pros and cons of each option, and how to create an optimal production setup with some of our best equipment suggestions. By the end of our video, you can feel confident that your next video transmission cable will establish a stronger video signal for you and help you stream successfully, every time. 
Types of Transmission Standards
The two types of video transmission standard are Serial Digital Interface (SDI) and High Definition Multimedia Interface (HDMI). Both standards function a little differently and can offer different strengths that may be useful depending on your production needs. To help you figure out exactly what type is best for you, let's first cover the differences between the two and how they operate.
SDI
Developed in 1989, SDI is a digital video interface that transmits uncompressed audio and video signals between devices. Its transmission process works through encoding uncompressed signals into packets of data referred to as "cells". These cells are then sent one by one down a single coaxial cable and because the signals within them are uncompressed, each signal can be left completely intact throughout the entire transmission process.
HDMI
In contrast, HDMI was developed in 2002 and is now the most widely-used consumer video cable. Because HDMI cables are often constructed of two cables twisted together, one cable carries the original signal, while the other carries an inverse copy of the signal. Once a device receives and decodes both signal versions, it then measures the signal information each version holds and fills any missing data that may have degraded during transmission.
Pros and Cons
While the differences between these two standards may seem arbitrary at first, there are in fact key distinctions between them that should be considered before making your choice. Let's dive into the pros and cons of each standard to give you a better idea of what they're working with.
SDI is the professional standard for video transmission and often, higher-end equipment will only include SDI ports on their systems. Known for their high-quality transmission, low-latency, and ability to transmit over long distances without signal degradation, SDI cables also include built-in locking mechanisms on each terminal that prevent accidental unplugging. Some potential downsides to this standard are that it is more costly than HDMI alternatives and it is unidirectional, meaning that it can only process one video signal at a time.
Moving onto HDMI, this standard is the most widely-used option in the consumer-market and is more cost-effective than SDI. By using compressed signals, HDMI cables require much less bandwidth during transmission, leaving them a great choice for devices with low available space or weaker processing power. These cables are also bidirectional, meaning the capture-device and playback-device can continuously communicate back and forth with one another—allowing for multiple video signals to be processed at one time. Some potential downsides to this standard include its incompatibility with professional-level equipment, its lower-quality transmission, and its inability to transmit over larger distances.
Another standard that is worth noting is Optical HDMI, which uses lasers to transmit the data rather than traditional copper. Lasers move at the speed of light within a cable, so Optical HDMI can be run at lengths that match SDI, making it an innovative and functional choice for many production teams. That being said, these cables do include some cons, as they can get expensive, they cannot hold an 8K signal, and they are not bidirectional, so be sure to consider everything before purchasing.
Clean vs. Dirty HDMI
A quick tip for those who are transmitting video signals from a camera's HDMI output or SDI output—make sure the output you're getting from your camera source is considered "clean" HDMI, rather than "dirty" HDMI.
A clean HDMI, or SDI, signal is one that only includes the video and audio data, without any additional information such as screen overlays or camera controls. This is important for livestreaming and video production, as it ensures that only the intended video and audio is being transmitted.
In opposition, a dirty HDMI, or SDI, signal includes additional information, such as on-screen menus, camera controls, and even the live view from the camera. This will have unwanted information appearing on the final video or livestream and will interfere with any text or graphics overlaid on the footage.
To ensure that you're using a clean signal, check your camera settings and look for an option that allows you to output clean HDMI. Some cameras may have a dedicated button or menu option for this, while others may require you to dig deeper into the settings.
Equipment Suggestions
Now that you have a good idea of what each standard can offer, let's cover our top equipment suggestions for building the ultimate production setup. This list will cover a range of different pieces, so feel free to pick and choose what you'd like to invest in and be sure to create the perfect mix of products for your specific production needs.
SDI to HDMI Converter
Blackmagic Design Micro Converter SDI to HDMI 3G (with Power Supply)
"This pocket-sized SDI to HDMI converter features a sturdy metal housing with power and signal LED status indicators and rugged connector interfaces. A USB Type-C port enables the SDI to HDMI 3G converter to easily connect to and be powered by large-screen monitors, laptops, desktop computers, or projectors. You can also power this converter using the included 100-240 VAC power supply, complete with four international socket adapters."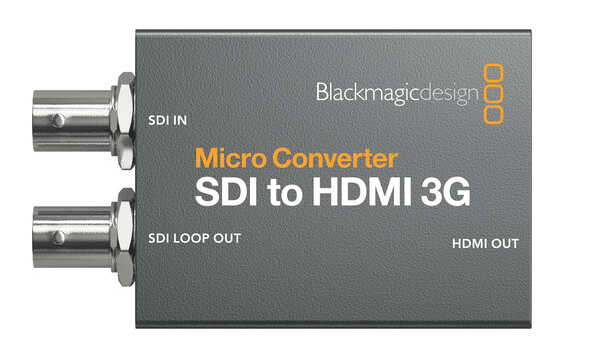 HDMI to SDI Adapter
Blackmagic Design Micro Converter HDMI to SDI 3G (with Power Supply)
"The Micro Converter HDMI to SDI 3G from Blackmagic Design enables you to link HDMI cameras or computers to pro-style SDI (BNC) monitors or components. You can also use several units to extend HDMI over long distances using SDI cable. This compact converter has one HDMI input and two 3G-SD/HD/SDI outputs that can be set to Level A or B. It auto-detects and matches your HDMI input to the SDI output and is compatible with input/output resolutions up to 1080p60."
3G SDI Cable
Kopul Premium Series 3G-SDI Cable BNC to BNC (100 ft)
"Made with high-grade RG6 cabling and gold-plated Neutrik connectors, this 100 ft Kopul Premium Series BNC to BNC SDI Cable is designed to transmit a clean video signal end to end. Featuring a PE-insulated OFC conductor with foil and dense braided copper shielding, the cable ensures minimum signal loss with exceptional protection against signal drop-outs and RF and EMI interference. A rugged SuperFlex PVC outer jacket provides high flexibility and durability."
12G SDI Cable
Canare 12G-SDI UHD 4K Single-Channel BNC Cable (100 ft)
"Canare's 12G-SDI UHD 4K Single-Channel BNC Cable, 100′ long, is designed for connecting 12G-SDI rated cameras and equipment and carrying a UHD 4K signal. The cable features nickel body 75-ohm connectors with gold-plated contacts and highly foamed PE insulation for optimal attenuation. It's suitable for studios, mobile trucks, and installations among virtually all other applications."
HDMI 2.0 Cable
Kramer High-Speed HDMI 2.0 Cable (15′)
"Connect your HDMI-compatible devices with this High-Speed HDMI 2.0 Cable from Kramer. This 15′ cable has molded HDMI connectors at both ends that are designed to resist erosion while providing reliable connectivity. This cable facilitates an uncompressed digital connection between your compatible electronic devices and display monitors—for example, connecting a Blu-ray player to an HD television."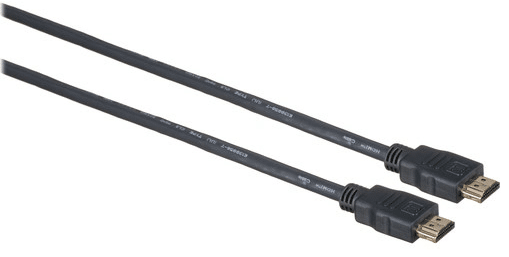 8K HDMI Cable
Elvid Hyper-Thin 8K Ultra High-Speed HDMI Cable (3 ft)
"The 3′ long Elvid Hyper-Thin 8K Ultra High-Speed HDMI Cable is ideally suited for connecting devices together, such as a cinema-grade camera or drone remote to a video monitor. Its versatility comes from its support of the HDMI 2.1 specification. This provides up to 48 Gb/s of bandwidth, which is more than enough for transferring Raw footage at up to 8K. Speaking of 8K, it also supports video playback up to 8K at 60 Hz, or 4K at a smooth 120 Hz."
Optical HDMI Cable
ATEN VE7833 Premium High-Speed Active Optical HDMI Cable (98.4 ft)
"Connect your high-resolution source device to your compatible display over a long distance with the 98.4" Aten VE7833 Premium High-Speed Active Optical HDMI Cable. It supports resolutions up to DCI 4K, plus HDR, Dolby TrueHD, DTS-HD Master Audio, and more. It uses fiber optic wiring rather than copper to support long cable runs and help reduce EM and RF interference. The cable is powered by your HDMI device or an external USB connection and includes two USB cables."
Video Encoder
The RAY is a small-form-factor encoder for Resi's Livestream Platform that's ideal for affordable and portable encoding. Now you can get the power of Resi's Resilient Streaming Protocol in a smaller, portable form factor! The Resi RAY encoder is a fantastic option for portable churches, traveling speakers, micro conferences, classrooms, and more.
At Resi, we believe the optimal standard for video transmission is SDI. This option offers professional-grade video quality and is compatible with most top-of-the-line gear. In fact, here at Resi, we've made the decision to use SDI as the primary input on our Ray Encoder, as well as our Professional-Grade Encoders. SDI is the most reliable, robust, and we also love the built in locking functionality!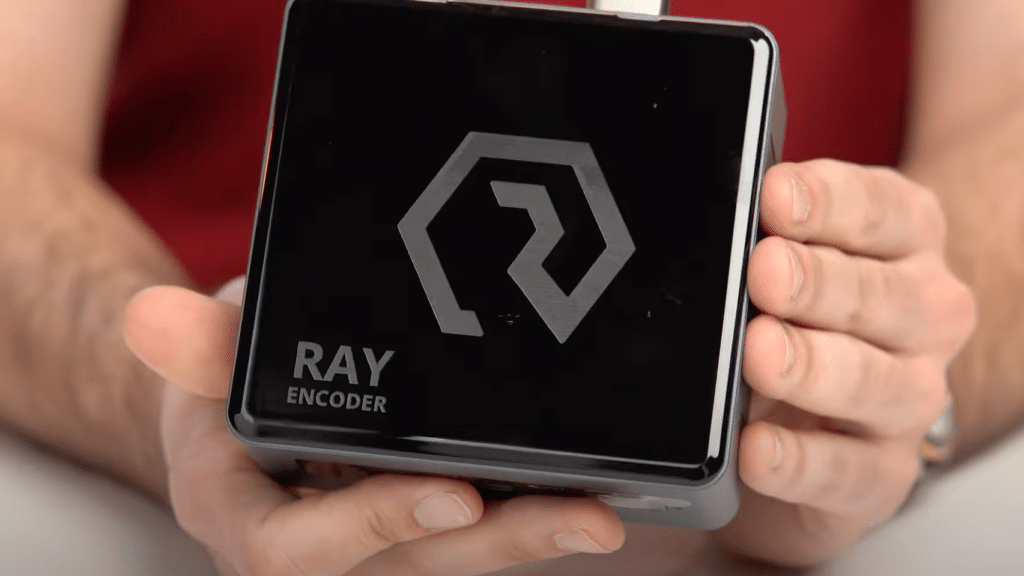 We hope you found our video, as well as our list of recommendations, useful for when you're in the market for a new video transmission cable. Always be sure to look over your current production setup before investing in any product, as you'll want to ensure what you purchase will fit your system and help you stream successfully. If you're interested in learning more about streaming and all the technology included in the industry, be sure to check out our other posts and contact our Sales Team to discover Resi's array of streaming solutions.