Streaming live church services is the new frontier of online ministry.
Made a temporary necessity by the effects of the COVID-19 pandemic, some churches have started to view livestreaming as a seasonal fad that's no longer worth the hassle or resources. As such, they're weighing the pros and cons of maintaining a livestreaming presence, deciding whether it's worth the financial investment and time commitment.
On the other side of the equation, some churches are just now considering whether it's time to incorporate livestreaming into their digital ministry strategy. So, they're running the same cost-benefit analysis on streaming their church services as the livestreaming "veterans."
While there are numerous benefits to streaming live church services, there are just enough perceived drawbacks to make the endeavor appear unfeasible for some churches. Could your church be one of those churches ready to reap the exponential benefits of livestreaming? Or does it make more sense to keep your services contained within the sanctuary for the time being?
In this blog post, we'll explore the pros and cons of streaming live church services. By the end, we hope you'll come away with a well-rounded appreciation of the nuances of this technological frontier and be better equipped to make the right decision for your church.
Best Livestreaming Equipment
Discover what top-rated equipment we recommend adding to your church streaming toolkit.
Download for free!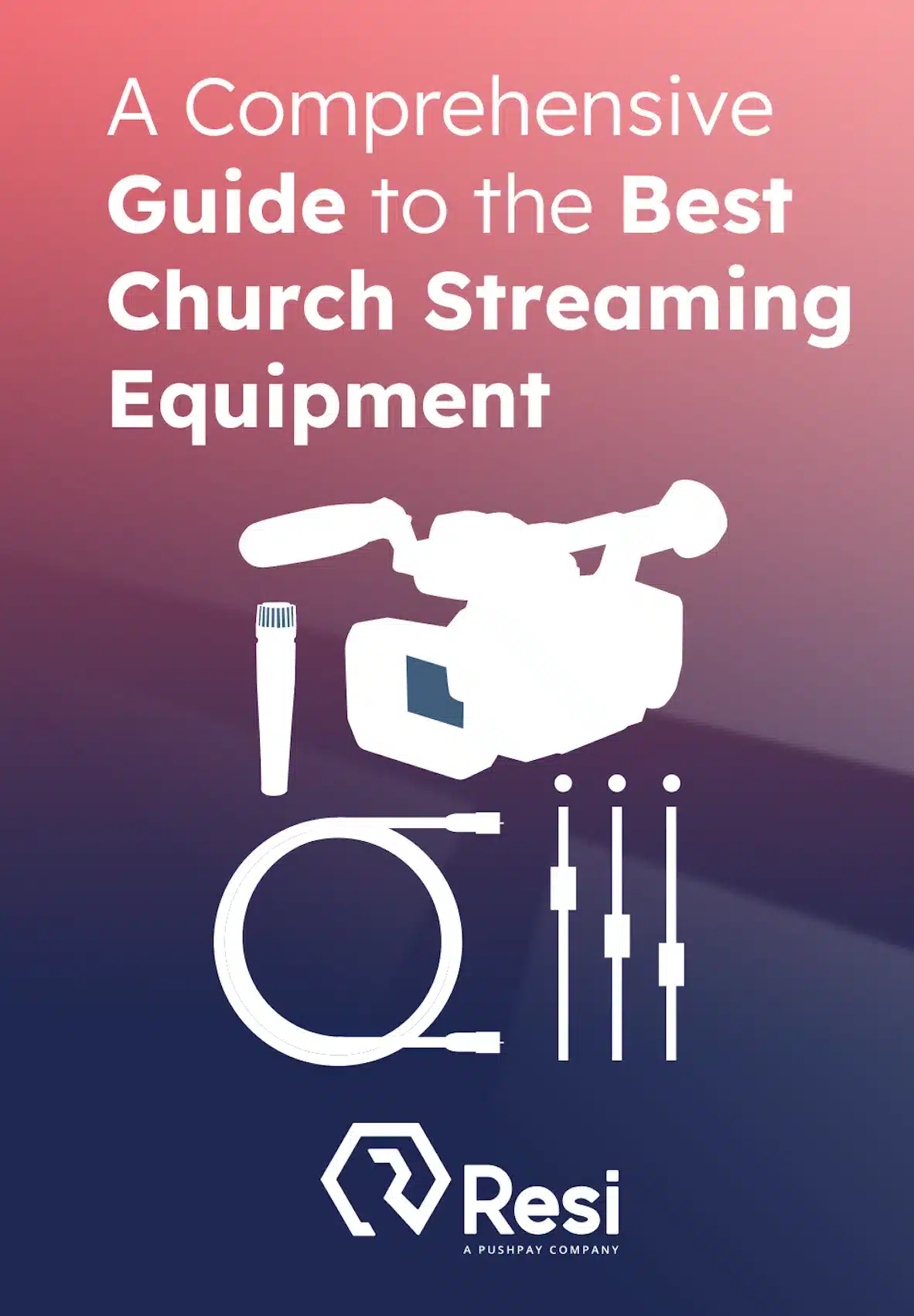 The Pros of Streaming Live Church Services
Streaming live church services requires a keen understanding of the technology involved as well as the behaviors and preferences of those you're trying to reach. However, once you get a handle on the basics, livestreaming can open up a multitude of doors for evangelism and engagement for you and your church.
Reaching New Audiences
Far and away the most impactful benefit of streaming live church services is that it expands the reach of your church's ministry far beyond the four walls of the sanctuary.
In the past, a church's congregation and mission field was limited by the church's zip code and geographic proximity to other churches. Nowadays, your church's worship services and messages can be broadcast all over the country (and the world). While these possibilities can feel overwhelming, in reality most people who interact with your church's livestream will probably have a personal connection with your church.
At the same time, livestreaming technology can significantly expand your church's impact, discoverability, and influence. No longer limited by your zip code or geographic boundaries, your church can reach people who might have never crossed the threshold into your building.
Convenience For Those Who Can't Attend In-Person Services
Livestreaming church services isn't just about reaching new people in your community (and beyond). It can also be an answered prayer for people who might find themselves in a situation where attending traditional in-person services isn't possible.
For example, imagine someone who is ill or recovering from surgery. In this situation, going to church in-person just isn't going to happen. However, with livestreaming, they can remain engaged with your church from their hospital room or bedroom. In other cases, chronic pain, debilitating injuries, or a long-term disability may also prevent someone from warming a pew every weekend. Wouldn't it be a kindness to give them the option of participating in what God's doing at your church from afar?
Through a livestreamed church service, a person can remain connected to your church regardless of their season of life. And that's a ministry opportunity you can't put a price on.
Cost-Effectiveness Compared to Traditional Methods
It may not be the first benefit that comes to mind, but live streaming church services can also help your church save money and consolidate funds.
As your church grows and expands its reach, it's typical for expenditures to also increase—sometimes to the detriment of your church's growth. However, with livestreaming, your church can continue to grow without significantly increasing its expenditures. From streaming to different campuses to setting up virtual "meet-and-greet" events, livestreaming can help your church maximize its impact on a lean budget.
The Cons of Streaming Live Church Services
Let's be clear: While live streaming church services can greatly benefit your church's ministry and impact, it's not without a few risks and pitfalls you'll need to consider before making it a permanent aspect of your ministry's output.
Here are a few potential drawbacks to livestreaming your church services you definitely need to take into account.
Reduced Personal Connections
First, let's acknowledge the elephant in the room: in its current stage, livestreaming isn't a perfect substitute for an in-person worship service. Something amazing happens when people gather in a room (and sanctuary) together, and that experience is near-impossible to replicate via podcast or livestream event.
Now, let's be clear. This doesn't mean faith isn't strengthened through livestreamed events (it definitely does); it just means your church shouldn't approach livestreaming as a 1:1 substitution for in-person services for your congregation.
However, online ministry opportunities flourish once you start viewing live streaming church services as a conduit for increased personal connections and in-person attendance.
For example, someone who's "spiritually curious" or looking for a new church home is probably more likely to check out your church's online presence (website, social media, and, yes, livestream) before visiting your church in-person. In this scenario, a high-quality livestream is your church's best chance to get someone through the front door.
Technical Difficulties and the Need for a Reliable Connection
We've all been there. You're taking a break from work or you're settling in for an evening of turn-your-brain-off entertainment. Suddenly, midway through the episode or video you're watching, the image becomes pixelated, the audio lags, and you get the dreaded buffering spinning wheel.
It takes you out of the moment, doesn't it? Well, the same is true when that happens during a livestreamed church service. If the quality of your stream is poor (or your internet connection is unstable), video and audio lags can greatly impede the experience, even causing people to drop out from frustration. Despite these risks, it should be noted that Resi's Resilient Streaming Protocal (RSP) protects against audio and visual quality loss during transmission, ensuring a consistent and error-free stream—rendering this concern a moot point.
Therefore, if you plan to make livestreaming a critical part of your ministry, you better ensure you're incorporating a trusted partner—like Resi—to stream with confidence.
Difficulty in Collecting Offerings and Tithes
Another aspect of live streaming church services that may make some people in your church hesistant to pursue it is the fact that calls for offering and tithes are easier to ignore when you're watching online.
Talking about money at church can be awkward, but discussing the impact livestreaming might have on your church's bottom line is an important conversation. While livestreaming is highly unlikely to decrease the amount of in-person tithes and offerings, you likely need to implement a strategy to engage livestream viewers. Thankfully, a number of app and online-based solutions—like Pushpay— exist to make giving more accessible and seamless than ever before.
How Resi Can Help You Make the Right Decision
If you're ready to initiate (or upgrade) your church's online ministry and reach, it's easy to become overwhelmed with all the different livestreaming options.
As a result, many churches fall back on familiar platforms like Facebook or YouTube, but those sites are rife with ads, distractions, and trolls (plus, you're at the mercy of Big Tech's constantly evolving content moderation guidelines).
That's why at Resi, we offer a high-quality streaming alternative for churches. Made for the church, by people who love the church, Resi's hassle-free and easy-to-use hardware offers adaptive video quality, proactive monitoring and support, real-time metrics, and guaranteed error-free audio and video delivery.
Additionally, through our parent company, Pushpay, you can set up an easy-to-use giving solution and church management software (ChMS) that'll help you monitor giving trends, track attendance, and seamlessly engage with new visitors.
To learn more about how Resi can enhance your church's livestreaming experience with secure and error-free streaming, book a demo today.
Get a demo