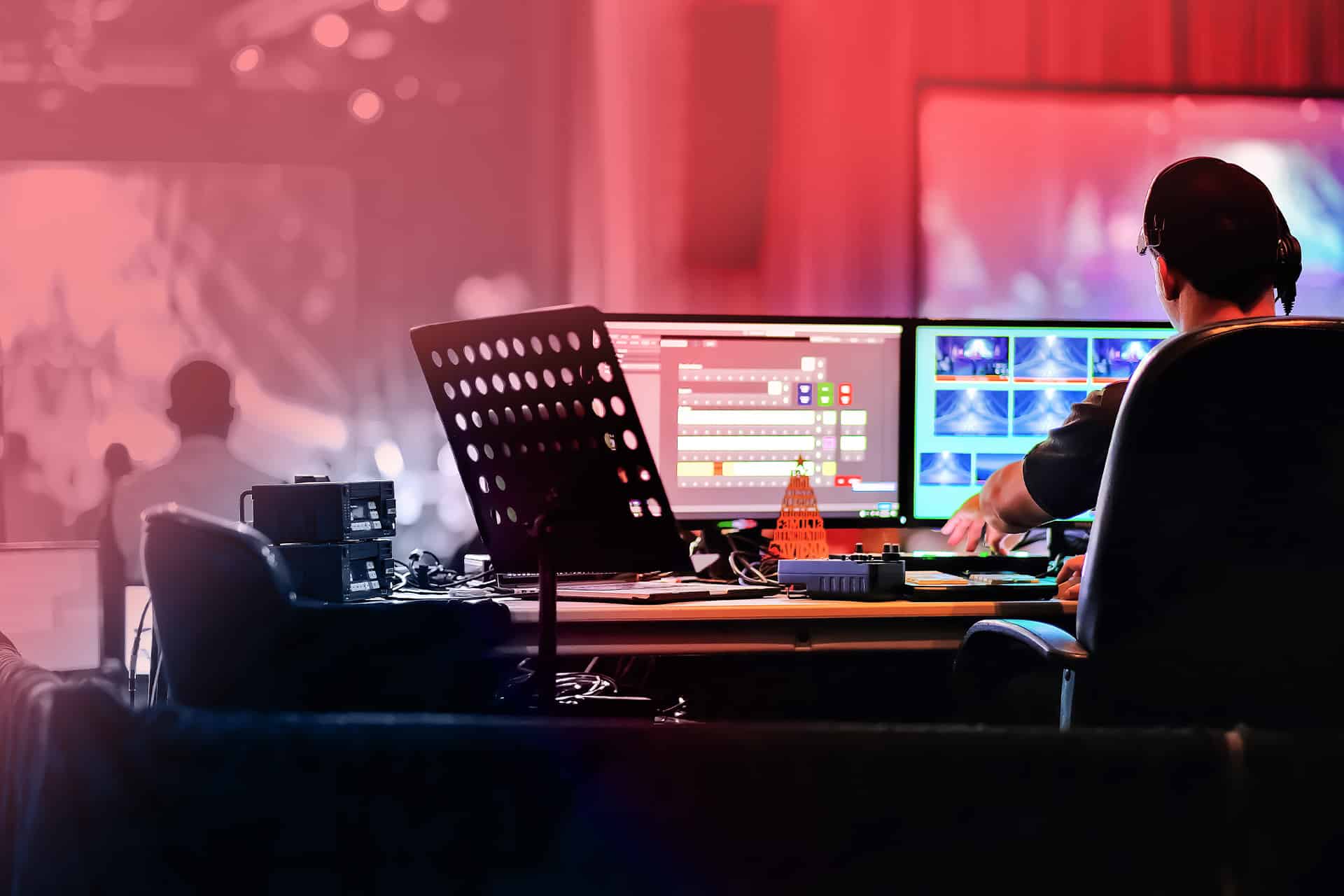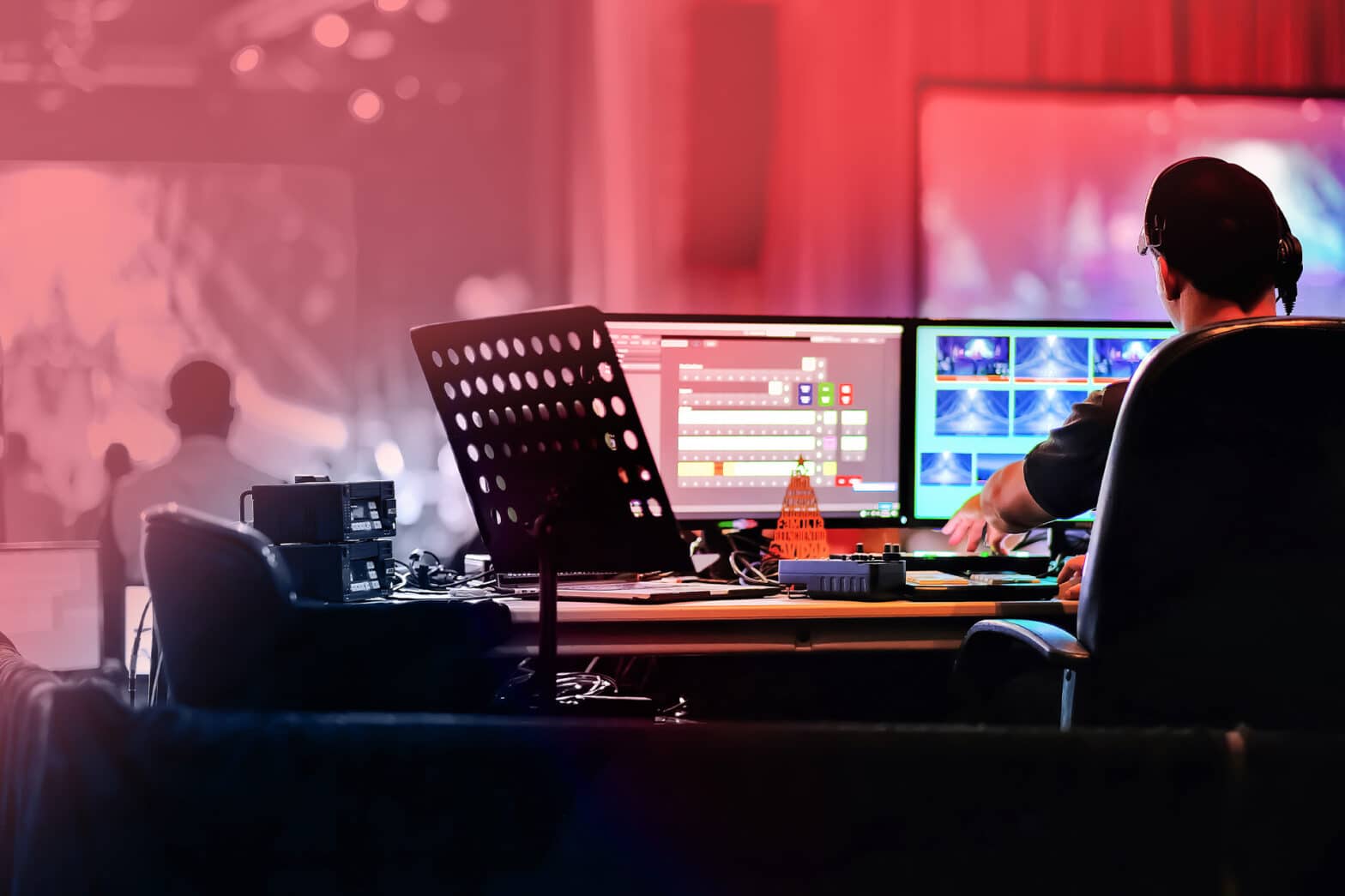 While many churches believe their best bet for holiday success is prioritizing an engaging on-site and in-person experience, there are actually many ways in which livestreaming benefits current congregants, visitors and newcomers, and even the church itself.
So, before you say no to streaming too quickly, let's go over the top three reasons churches should consider streaming for the holidays and how livestreaming can transform your holiday experience for the better.
How to Livestream Your Virtual Events in 4 Easy Steps
Upgrade your live streaming platform and never lose a viewer—ever. Get your free guide today!
Download for free!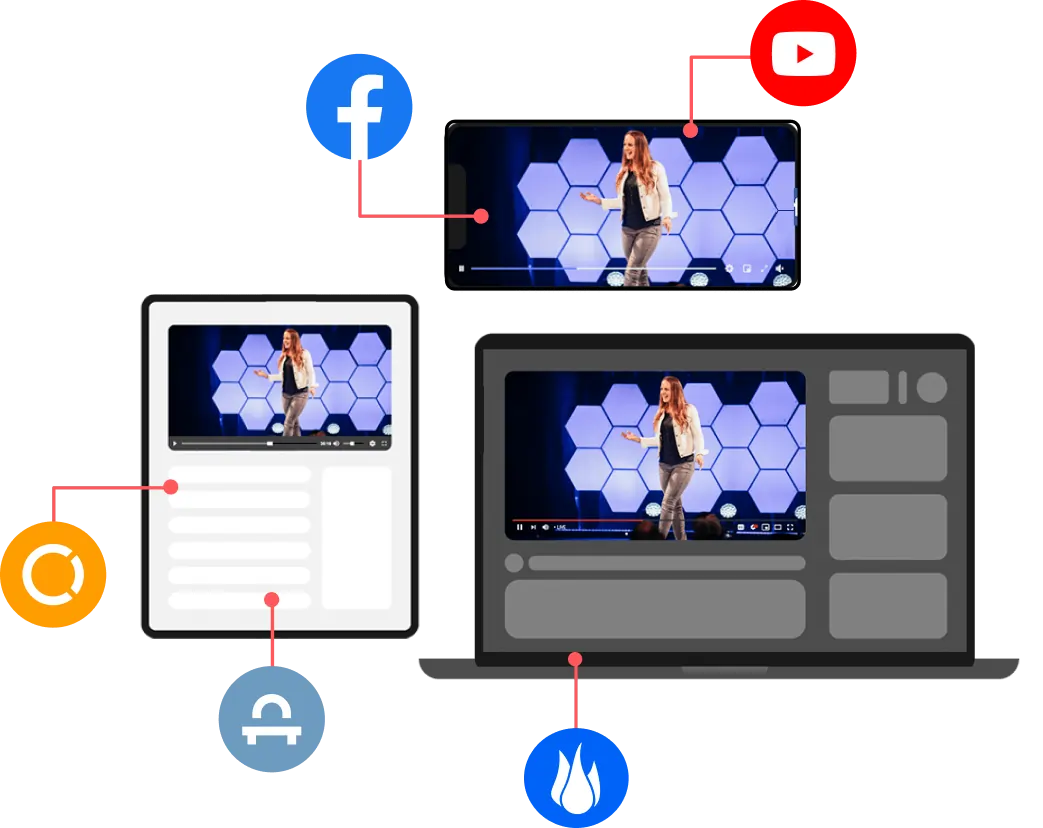 1. Holiday Travel
Holiday travel plans can have a massive impact on church attendance.
Many people travel great distances to visit family and friends during this time of year, which can leave your congregation separated and disconnected during one of your most important services of the year. So, rather than encouraging them to seek out and attend a random church service for the sake of observation, you can offer them the ability to connect with your church wherever they're at.
By livestreaming your services, your congregation can celebrate the holidays with the community they love and experience your holiday message from any location—leading to stronger connections and an engaged audience, both on-site and online.
2. Reach More People and Grow Your Congregation
Another reason you should consider livestreaming your holiday service is so you can open your doors to audiences you've never been able to reach before.
There's always a major spike in church attendance during the holidays, as many people who may not regularly attend church are often on the lookout for an opportunity to add a "spiritual component" to their holiday celebrations. However, some of those people may not feel entirely comfortable walking into a church for the first time during a special service, like a Christmas Eve candlelight service or Easter Celebration. Therefore, a livestream option may be an extremely attractive option to these potential visitors.
In previous decades, visitors simply attended the holiday services closest to them, but times have changed and people now have access to any number of churches throughout the world via the internet. By providing a livestreaming experience, your church has the opportunity to attract the attention of countless online viewers and build connections with people who may be looking for a new community.
Not to mention, by offering a digital experience, you're also spreading your message and mission to those who may be unable to celebrate the holidays at your physical building, such as deployed military members or those with disabilities. Either way, livestreaming this holiday season is a great way to open your doors to newcomers and grow your congregation.
However, if you want to take advantage of this benefit, be sure to advertise the livestream option to more than just your current congregation. Some churches experience great success with targeted direct-mail campaigns that let people know within specific zip codes about the upcoming Christmas services. You might also want to encourage your congregation to share and post on social media about the church's holiday plans—whatever you decide, it's probably a good idea to include a QR code linking to the church's livestream.
3. On-Site Complication and a Back-Up Plan
Our final reason for incorporating livestreaming into your holiday plans has to do with the complications associated with on-site services—especially during times when facilities might be pushed to the brink.
During the holidays, the church has a lot of factors working against them, such as overcrowding, lack of volunteers, and even bad weather. The great news? Livestreaming can help alleviate all of these different issues, leaving your holiday season as stress-free and efficient as possible.
By offering your congregation the ability to stream their holiday service from home, you'll have a lot less people showing up to your on-site service. Yes, this might seem counterintuitive, but think about it. With fewer people packing into your sanctuary, you have a lower chance of overcrowding. And with the ability to provide a digital experience, you won't need as many volunteers or faculty members to handle the influx of attendees, as many who are attending the service will simply enjoy your services from the comfort of their homes.
You may understandably scoff at the recommendation to de-prioritize in-person attendance, but opening up more space in your pews gives more visitors a chance to attend on-site—especially if you frequently run into capacity issues in your parking lot of sanctuary.
Additionally, there is always a chance of poor weather over the holiday seasons, which could put your service in jeopardy if people are unable to show up on-site. That's why always having a back-up, such as livestreaming, is a great way to ensure that your congregation is still able to celebrate accordingly.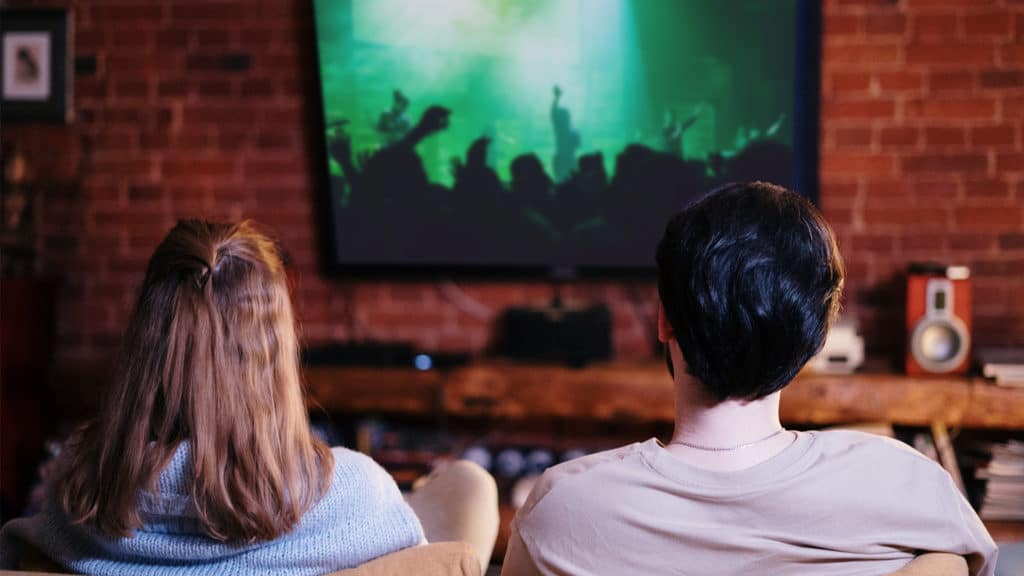 How Resi Can Help Your Christmas Livestream
Now that you have a better understanding on how livestreaming can seriously benefit churches during the holiday season, let's dive into some products that can help transform your holiday livestream workflow. At Resi, we offer a comprehensive list of incredible services and tools that make livestreaming as easy and efficient as possible.
Resi On Demand
A new addition to Resi's ever-expanding list of products and features, Resi On Demand is an intuitive and innovative solution to streaming and hosting video content that your congregation and media team will absolutely love—especially over the holidays.
Resi On Demand is a full-service on-demand platform that lets your church instantly upload, display, and share video content in a way that increases accessibility and encourages engagement.
The cornerstone feature of Resi On Demand is Media Sites. Media Sites allows for the creation and integration of your church's content into a stand-alone personalized website or directly into your church's current website.
During the Christmas break, any amount of time you can give back to your media team and volunteers so they can spend more time with their friends and family is a gift worth investing in. With our "automagic" features available via Resi On Demand, you can go from livestream to on demand instantly. Autosave to Library and Playlist means that when your livestreams finishes, it can be made available immediately on your Media Site without lifting a finger.
Also, in regards to the possibility of inclement weather that derails all of your church's Christmas programs, you could easily upload a pre-recorded version of your Christmas service onto your Media Site and share it with your congregation — complete free of distracting (and potentially inappropriate) ads and "suggest videos" that dominate other popular video hosting sites.
Social Only
Our Social Only Plan is a great option for churches who may be starting out in streaming and don't need many bells and whistles included in their features.
Its list of features includes Auto Scheduling, unlimited streaming to all social platforms from Resi's cloud (Facebook, Youtube, etc.), and dedicated monitoring and support.
Our Auto Scheduling feature is an incredible tool that allows you to schedule recurring streaming events and can broadcast automatically with no weekly maintenance. This will be great for the holidays, as you can schedule your holiday stream as far in advance as you want to, leaving you with less stress during your on-site service.
But that's not all! With unlimited streaming to all social platforms, you can stream with guaranteed resiliency to whatever video platform works best for your congregation.
Whether that only includes one platform, or every option that's available, Resi provides simultaneous streaming to any platform of your choosing—leaving your congregation with easy access to all the holiday content you've got.
Best of all, our Support Team uses proactive monitoring and reports to detect any issues in your stream before they even occur. Plus, with full email and phone support that's always available—yes, even on the weekends—your holiday livestreams will never be left helpless if something goes wrong.
Starter Lite
Our Starter Lite Plan is a great option for churches who want a more robust list of features in their plan and who plan on diving a bit deeper into the possibilities of livestreaming.
The Starter Lite Plan includes features like Simulated Live, Audience Analytics, Auto Scheduling, three levels of cloud transcoding, web embed codes, unlimited streaming to all social platforms from Resi's cloud (Facebook, Youtube, etc.), dedicated monitoring and support, and more.
Starting with our Simulated Live feature, this capability equips your church to record and save any holiday content they'd like, and then broadcast it as if it were happening live. Not only does this ability allow you to create higher-quality productions, as you can edit any imperfections before broadcasting, but it also makes the holiday seasons less stressful because you won't need to worry about capturing any content during your on-site service.
The next Starter Lite feature, Audience Analytics, offers you real-time, in-depth data on how your audience is interacting with your content, including viewer count, watch times, watch locations, and more. This data will provide valuable insight into the success of your holiday services, allowing you to analyze what worked, and what didn't.
Finally, with our three levels of cloud transcoding, your viewers can choose the resolution at which they watch your content. The Resi cloud works in conjunction with our encoders, which will be described below, to produce three different levels of playback quality, which can be chosen based on your viewer's internet speed and processing power. This equips your content to be displayed at a top-level resolution, resulting in an incredible viewing experience, every time.
Resi Ray Encoder
Our Resi Ray Encoder is the perfect tool for entry-level streamers and offers a compact-build that equips you with Resi's reliable streaming capabilities, wherever you go.
With features like a single HD-SDI input, an H.264 compression standard, up to 1080p60 output resolution, and 16 channels of audio, this encoder was built to provide the highest-quality video and audio possible, without skipping or packet loss.
The Resi Ray is the perfect addition to any holiday stream, as many churches need to hold holiday services in larger locations than what their typical building can hold. With this encoder's portable frame, they can have the resilience of Resi's RSP technology at any location of their choosing—even one with unpredictable WiFi.
Plus, by working in conjunction with your Ray Encoder, the Resi cloud automatically converts your video into multiple bitrates, which offers viewers the ability to choose their playback resolution, depending on their internet speed and processing power.
All of these details combined allow for a flexible and resilient streaming experience that can serve your congregation all the way through the holiday season.
Upgrade Your Christmas Livestream Today
The Christmas season can be a time of incredible joy and connection within a church. And while focusing on producing an incredible on-site service is always going to work in your favor, we hope this post sheds some light on the benefits of livestreaming during the holidays.