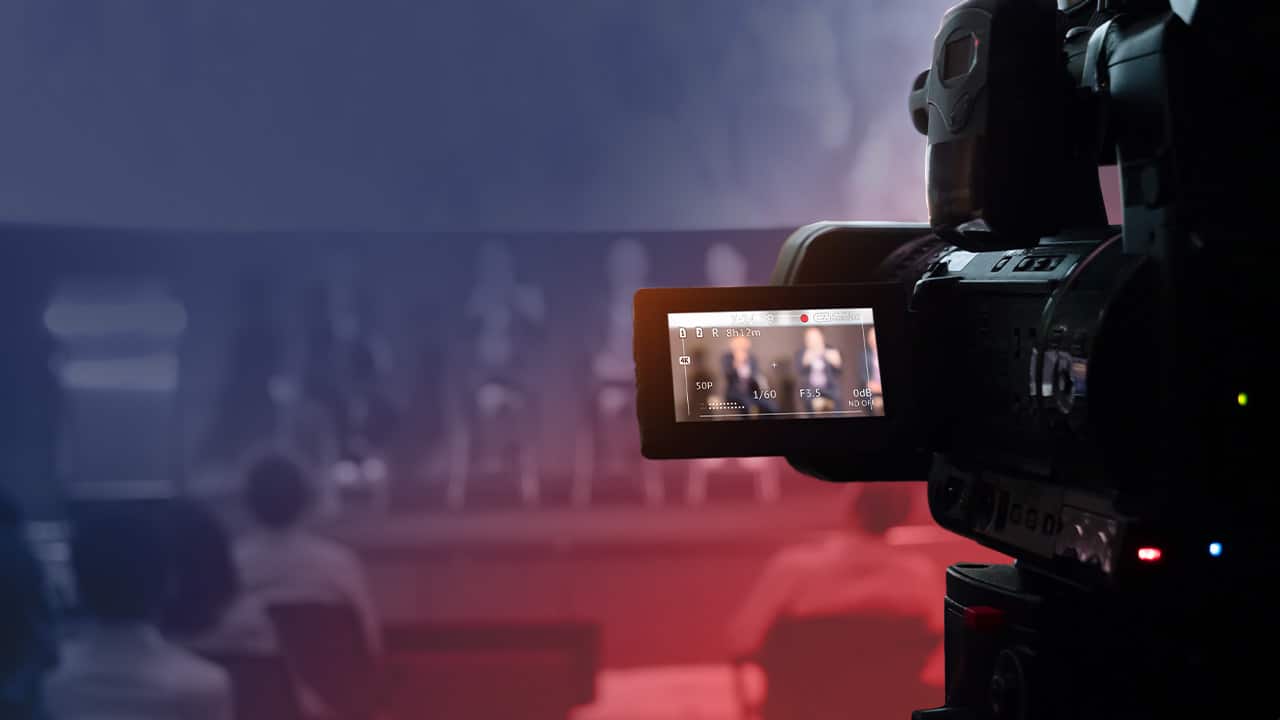 Livestreaming became an essential tool for churches these past few years, to maintain connection and community while social distancing. But today, as churches host in-person services once again, leaders are discovering that more and more people first interact with their ministry online. Their journey into the life of your church rarely starts by walking through your physical front doors; it starts when they find your website, your social media profiles, and engage with your digital content.
That means your online presence needs to be just as strong and polished as what you present to first-time in-person visitors. And while there are many ways to engage online guests, the first thing most people notice is the quality of your livestream.
Back in the early days of COVID, it was okay to quickly shove an iPhone in the back of the room and livestream your service to YouTube or Facebook. But viewers have become accustomed to high-quality digital church content. Their standards and expectations have changed.
Which is why it's time to invest in an encoder.
Understanding Livestream Encoders
An encoder is essentially a device that takes the feed from your camera or sound desk, compresses it, and turns it into a digital format for web streaming. Whether you have software installed on your computer, or a dedicated piece of hardware that you plug into, you can't host a livestream without something encoding your raw footage.
Hardware vs. Software Encoders
Hardware encoders are stand-alone devices specifically designed for encoding and streaming content. Essentially, they're mini computers built for that sole purpose. And while they require some operational learning on the front end, they're accessible, reliable, and efficient for high-quality livestreaming.
Software encoders, on the other hand, are applications that can be installed on your computer. They utilize the processing power of the computer to encode audio and video signals into a digital format.
There are pros and cons to both styles of encoders. Hardware encoders are ideal for churches aiming for high-production livestreams, while software encoders are much more versatile and accessible for churches on a budget.
Note that, while software encoders are a great tool, they're limited by the capabilities of the computer they're installed on, and by other software programs operating at the same time.
Resi's Livestream Encoders
As a trusted industry leader for all things livestreaming, Resi offers both hardware and software encoders. Powered by Resi's patented Resilient Streaming Protocol (RSP), our technology was designed to ensure your encoding processes can withstand a complete internet outage for minutes at a time without losing any of your content.
ProPresenter Stream: Resi's integration with ProPresenter, a leading live presentation platform tailored to the Church, acts as a powerful software encoder. You can quickly and simply stream live video from ProPresenter to Resi's cloud platform, where it's encoded and delivered to your viewers.

RAY Encoder: This hardware solution is an excellent choice for churches looking for a powerful, portable encoder without breaking the bank. The RAY encoder is small and lightweight, making it easy to transport between your events, speaking engagements, campuses, or wherever your leadership may need to stream from.

Server-Grade Encoder: This is Resi's top-of-the-line, high-performance hardware encoder, designed for churches that don't necessarily need a portable solution and require more computing power for a higher quality streaming resolution. Delivering 4k video and multisite broadcasting, this solution can be configured to the unique needs of any church, and scale with the evolving needs of a growing organization.
Preparing for the Livestream Encoder Setup
Assessing Your Church's Internet Connection
This may seem like an obvious first step, but don't skip it! Look into your current internet plan and consider a potential upgrade if you have bandwidth or reliability concerns. The quality of your stream—which directly relies on your internet connection—will affect the enthusiasm and engagement of viewers.
That said, stable high-speed internet is typically mandatory for a seamless livestream—but thanks to Resi's Resilient Streaming Protocol (RSP), you're protected from an occasionally laggy connection. RSP protects your stream from packet loss and quality degradation, even with internet interruptions.
Choosing the Right Camera and Audio Equipment
Unfortunately, a webcam that connects to your computer through an HDMI cable isn't going to cut it these days. Equipment dramatically impacts the quality of your online congregation's experience, and viewer standards are higher than ever.
In fact, this is a topic we felt was so important, we devoted an entire book to it! If you're exploring what camera and audio options are available to you, check out our free ebook, A Comprehensive Guide to the Best Church Streaming Equipment.
Determining Your Streaming Platform
Resi's livestreaming platform integrates seamlessly with its encoders, offering a user-friendly interface for managing and broadcasting your content. But you need to spend time considering where that stream should live. Social media platforms like Facebook have pros and cons. An embedded video on your church's website might hold a viewer's attention better throughout a streamed worship service. Custom mobile apps for churches are also a great option for making sure your community can engage with your content wherever, whenever.
Step-by-Step Guide to Setting Up a Livestream Encoder
Connecting Your Camera and Audio Equipment
If you're using a software encoder, you'll also need to get a capture card to input your feed. We'd recommend getting one that comes with HDMI or SDI inputs—but be sure to check what output your equipment has first, otherwise you may find yourself in need of a convertor. Also, if you're outputting your audio separately from your video, make sure your card has another input for audio; quarter-inch jack, RCA, or XLR being the most common.
Hardware encoders all come with built-in connectors. Many of them have SDI inputs as well as HDMI, as SDI is considered the professional standard for transmitting video feeds. They'll also have ethernet ports to connect to the internet, so don't forget to plug that in—Resi's encoders can still function with internet droppage, but they can't if they don't have any internet to begin with!
Configuring the Encoder Settings
If you have a software encoder, the video/audio settings can be found and adjusted through your platform's built-in tools.
For Resi's hardware encoders, open up the Studio in your browser and navigate to Settings > Encoder Presets. Here you can add a Preset and customize, choosing what format standard you wish to use, as well as your output resolution (the process isn't as intimidating as you might think).
You can find even more detailed instructions on customization and configuration—or about any other encoder question you might have—in Resi's Help Center.
Testing and Troubleshooting
Before going live, it's important to thoroughly test your system, to identify and address any issues you might have missed. Run a few test streams to confirm that audio and video are operating properly.
If something's not working right, always start with the simplest questions, no matter how obvious they might seem:
Are the cables connected to the camera output?
Can you hear audio through headphones plugged in the sound desk?
Are the cables going into the correct ports in the encoder?
Does swapping out cables do anything?
By working from one end to the other, rather than jumping all over the place, you're more likely to quickly find your solution. More often than not, issues tend to be simple user error, rather than hardware related.
Then, once everything seems to be working, verify that your stream is accessible on various devices and internet connections. Testing the stream outside of your usual equipment allows you to make necessary adjustments and fine-tune your setup before going live on Sunday.
Even with careful preparation, technical glitches can and will occur. You can mitigate many of those inevitable hiccups by ensuring cables are easily accessible, in case one is damaged and needs to be replaced. Also, if you lose audio or video because a connection comes unplugged, your tech team will be able to locate and reconnect that cable swiftly.
And should you run into trouble at any point during these processes, you can always contact Resi's support team for assistance.
The Resi Guarantee
Resi's RSP ensures that your stream will remain uninterrupted—no need to fear the buffering wheel. So, while you're testing your new setup, why not see if our word is our bond? Pull the ethernet cable out, count to sixty, then plug it back in. See what happens…
Resi is Your Source for Livestreaming Resources
Resi provides many other fantastic features to help you refine your livestream after it's ready to go. Real-time Analytics help you see how your audience is engaging with your content. RTMP Destinations allow you to stream to multiple channels. Automatic Subtitles help those who are hard of hearing (or even just prefer their subtitles on all the time!). From adaptive streaming software, to rugged and reliable hardware, Resi's solutions are designed to give your ministry the tools to deliver impactful, high-quality, consistent live video broadcasting, and help you achieve your mission. Book a demo today to experience the difference Resi can make in your church's streaming setup.
Get a demo