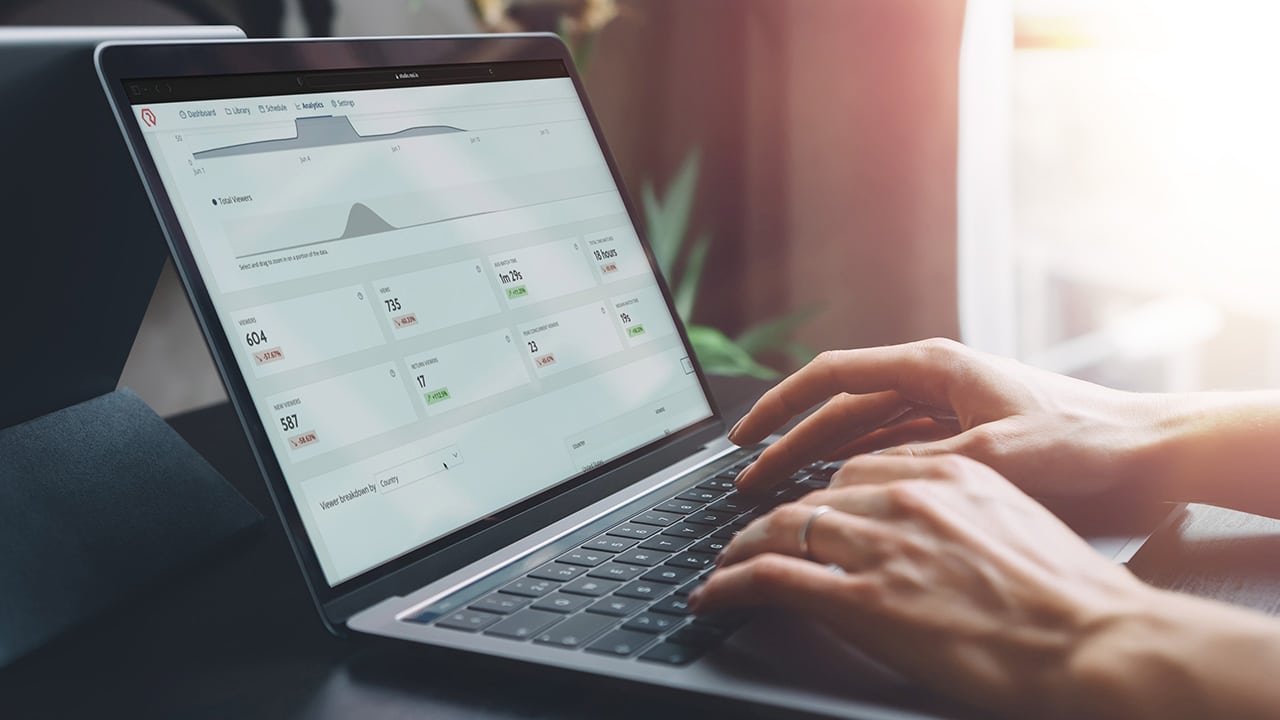 Years ago, churches had an easier time building a connected and communicative congregation, as congregation sizes were often much smaller and more intimately acquainted. However, as time has passed, many churches that used to hold maybe a hundred or so congregants a week now sometimes see thousands during a single service.
And while many have expanded their physical locations to fit this demand, their strategies for building connection have often been left untouched. Luckily, by investing in church livestreaming and taking a closer look at your church stream analytics, you can connect better with your congregation and build a strong future for your ministry. Follow along as we cover the top three reasons your church should pay attention to livestreaming analytics, and learn everything you need to know, including what livestreaming analytics are, why they're important, and what features to look for when choosing your next analytics provider. Let's jump in!
What are livestreaming analytics?
livestreaming analytics refer to viewer data collected throughout a livestream. This data can include a range of different metrics, including view-count, viewer-location, watch-times, device-types, and much more. This data is gathered by tracking the fluctuations in viewers and their digital engagement while a stream is broadcasting. Understanding your audience and how they interact with your content is crucial to developing meaningful, engaging livestreams that showcase the growth and success of your ministry.
Later on, we'll cover exactly what you should look for when choosing your next analytics provider, but before then, let's dive into the top three reasons it's important for churches to pay attention to their livestream analytics and what this information can offer.
Top 3 Reasons to Pay Attention
1. Discover what topics congregant want more of
Pastors spend a lot of time preparing the sermons shared during services and throughout the week. But unless they're seeking out regular feedback about how their messages are performing, it can be tricky knowing what's working for their congregation and what isn't. Luckily, if your church runs off a hybrid model with livestreaming, your church livestream analytics can help paint a better picture of the topics your congregation wants to hear more of. By looking at how many viewers watched your stream, what their average watch time was, and even what types of content they're searching out on your video on-demand platform, you can see what messaging your community finds most engaging. This information helps churches create content that offers the guidance their congregation needs by filling in the gaps where verbal feedback may be lacking.
2. Learn where and when to allocate your resources best
One hard reality with running a church is that you often have to work with limited resources. With finite amounts of time, money, and attention, church leaders need to make sure that they invest their resources in the right areas. If done incorrectly, churches can suffer serious consequences and areas within their ministry won't get the assets they need. That's why it's so important to pay close attention to tools like your livestream analytics, as they can offer you great information on what segments of your church deserve more or less resources. For instance, your analytics may show that during certain times of the year, your livestream attendance out-performs your in-person attendance. With this information, you can choose to allocate more funding and effort toward your digital presence and invest in the areas where your congregation is looking to connect.
3. Figure out where your next campus location will be
As churches grow and expand, the number of campuses they have tend to follow suit. Sometimes there can be multiple locations across one state, and other times campuses can pop up all over the country, even the world. Plus, as congregations expand, many people may request to start plant churches in their areas if they've been commuting to services. livestreaming analytics are the perfect tool to help your ministry decide where your next campus should be. With heatmaps and location data that tracks where your viewers are tuning in from, you'll have the exact information you need to figure out where a new campus would serve your congregation best, creating opportunity for deeper connections with your growing community.
What to look for in a church livestream analytics provider
Now that you know the top three reasons it's important to pay attention to your livestream analytics, you should learn what to look for in your next church livestream analytics provider. There can be many features included in a livestream analytics system, however some criteria are more important than others.
Real-time Video Analytics
Real-time video analytics are an essential tool to livestreaming effectively. By utilizing an analytics system that gathers and displays your data while you broadcast, you can watch every portion of your content and see how each segment performs. This allows you to gain an in-depth understanding of how certain aspects of your content may need to change or be repeated in order to serve your audience best.
Video On-Demand Analytics
Video on-demand (VOD) analytics are vital to knowing your congregation on a deeper level. As mentioned before, having the ability to track which of your posted content is being watched most equips you to reflect on what topics your audience wants to hear more about. This data offers insight into the health of your congregants, depending on which messaging they're searching out, allowing you to plan future content and services that you know your community is in need of.
Social Media Analytics
Because many churches livestream their services through social platforms, like Facebook, it's important to be aware of how your content is performing on these digital destinations. By using social media analytics, you can keep track of changes in performance and stay up-to-date with what your target audience is interested in. This means keeping an eye on trends and changes in their behavior on social platforms. This kind of data is perfect for those working as their church's social media manager and can help anyone create content that resonates with their audience. By looking at things like engagement rates and click-through rates, you can figure out what types of content are most effective at getting people interested.
Location Data
Like we explained above, location data for your livestreams is an essential feature to creating successful and sustainable livestreams. By knowing the areas your audience is tuning in from, you can learn more about who your congregation truly is, what their cultural background looks like, what their communities look like, and where your next campus would serve best. All this information can seriously impact the way your church moves forward, both with messaging and resources, so having this data can ensure a sustainable future for your ministry.
Watch Times/Viewer Stats
Watch times and viewer statistics are going to offer your church the core information you'll need to measure the success of your content. By seeing how many people are watching your livestreams, how long they're watching for, how many viewers are new, how many have watched before, plus more, you'll gain the best picture of how your content is performing.
With these essential features in an analytics system, your church will be set to create engaging and effective livestreams that serve your congregation's specific needs. That being said, there are still a ton of amazing capabilities out there that will help you track your data even better. In fact, our Resi Analytics not only offers all of these vital tools, but also includes multiple other features designed to give you the most amazing analytics experience possible.
Resi Analytics
Resi Analytics offers your analytics data all in one place. With your Studio dashboard, you can look at all of your data, all at the same time, making it that much easier to make data-driven decisions for your ministry. Plus, we also offer many other incredible features, such as Event Analytics which allows you to track drops and spikes in content performance, Export capabilities which allows you to convert and export your data into Excel/Google files, and even Viewer Breakdown data which allows you to segment your data into sections you care about, such as device types, resolution levels, and more. With all of this incredible information at your fingertips, your church is sure to have in-depth insights into your community, equipping you to make stronger connections with your congregation just by livestreaming.
Analytics are an incredibly powerful tool that offer churches guidance on how to serve their ministry and congregations as effectively as possible. By paying attention to the data your livestream offers, your church can create a connected and communicative environment that is designed around your community's specific needs and interests, ensuring your church's spiritual success.
If you're interested in learning more about Resi Analytics and livestreaming, be sure to contact our Sales Team and discover how Resi can help you build deeper connections today.